This is a sneak peek inside the newsletter we send to mailing list subscribers every single Friday, which is now exclusive to members. Become a member here. Sign up to our free mailing list here to get a truncated version of this streaming newsletter every Friday, with our top two recommendations.
Hello,
This the last free weekly What To Stream newsletter you'll be receiving from us. Starting next Friday, you'll get just one or two recommendations, but the full list of what to stream will be exclusive to our members.
You can sign up now to our new, lower tier of membership, Film Adventurer Membership, to continue to receive this weekly digest of what to stream, plus access to our entire podcast archive, a free ebook, and more.
​Become a Film Adventurer here.​
This weekend is once again packed full of festivals and great new films on VOD/streaming. If you're in Canada, it's time to catch up on the best of French cinema with Cinefranco and Cinemania. My top two must-sees are Québexit and Slalom.
In the US, DocNYC has extended the run of 70+ films so it's a good time to be watching new docs (streaming across the country). There are some great local festivals in Ontario, Quebec, and the Bay Area. And Monkey Beach is once again screening worldwide for another 10 days!
Keep reading for more info on what we recommend watching and where to watch the films.
Cinefranco – available across Canada starting today
Québexit – Nov 25 – Ontario only (coming to Whistler FF/across Canada in December)
One of the most entertaining films I've seen this year is the trilingual political satire Québexit.
From the introduction to my interview with director Joshua Demers:
Canadian satire on film is still very much in its infancy, with Philippe Falardeau's brilliant 2015 film, My Internship in Canada, essentially hailing its birth. With Joshua Demers's Québexit, there's now another entry in this nascent genre, and it's an exciting, and very funny, one. Both My Internship and Québexit share an interest in the culture clash between anglophones, Québécois Francophones, and Indigenous people.

But Demers's film takes the important next step of actually involving all three groups in the screenwriting process: he co-wrote the film with bilingual Québécois francophone actor Xavier Yuvens and Cree actress-director-writer Gail Maurice (recently seen on CBC's Trickster as Georgina). The collaborative process really pays off because you feel like you're getting an insider perspective on each of the characters, which ensures all of them are three-dimensional and the humour feels very, very specific. It also allows the film to be trilingual — in English, French, and Cree — which adds another level of authenticity and nuance.
Cinemania – available across Canada
Montreal's French Film Festival continues across Canada this weekend, and there are a ton of films I really enjoyed and recommend.
​Tickets are available here, with each film $8​
Our Lady of the Nile – Nov 20-22
From the introduction to Orla Smith's interview with director Atiq Rahimi:
Orla Smith's Several films have been made about the 1994 Rwandan genocide, when the marginalised Tutsi people were murdered en masse by the Hutus, most famously Hotel Rwanda (2005). Our Lady of the Nile stands apart: less a factual retelling of the atrocities and more a poetic, dreamlike exploration of how prejudice brews and corrupts innocence. Rather than trying to tackle the state of the entire country, we see the makings of the genocide play out in the microcosm of an all-girls boarding school. The school slowly transforms from an innocent utopia that allows the girls to flourish, to a place of hate-mongering and violence.
Night Shift – Nov 22-23
Pretty much anything Virginie Efira (Sibyl) is in is worth watching. I'm also a big fan of Anne Fontaine's since Les Innocents and find even her misfires are worth catching.
From my review:
Night Shift (or Police in French) starts out promisingly, as it tells the story of the same day from the perspectives of three different police officers: exhausted new mother Virginie (Virginie Efira, always absolutely excellent), her lover Aristide (Omar Sy), and the middle-aged alcoholic Erik (Grégory Gadebois). Although each of them spend the day in part in each other's company, the slight shift in the camera's perspective as we see each of them leave home and then go through the day, smartly shows how different their experiences are. Virginie is constantly trying to ignore misogynistic microaggressions; Aristide comes off as a bro, but is actually quite sensitive and dealing with trauma; Erik is caught between his unhappy home life, an obsession with his reputation, and the desire to do good.
Man Up! (Un vrai bonhomme)- Nov 21 -22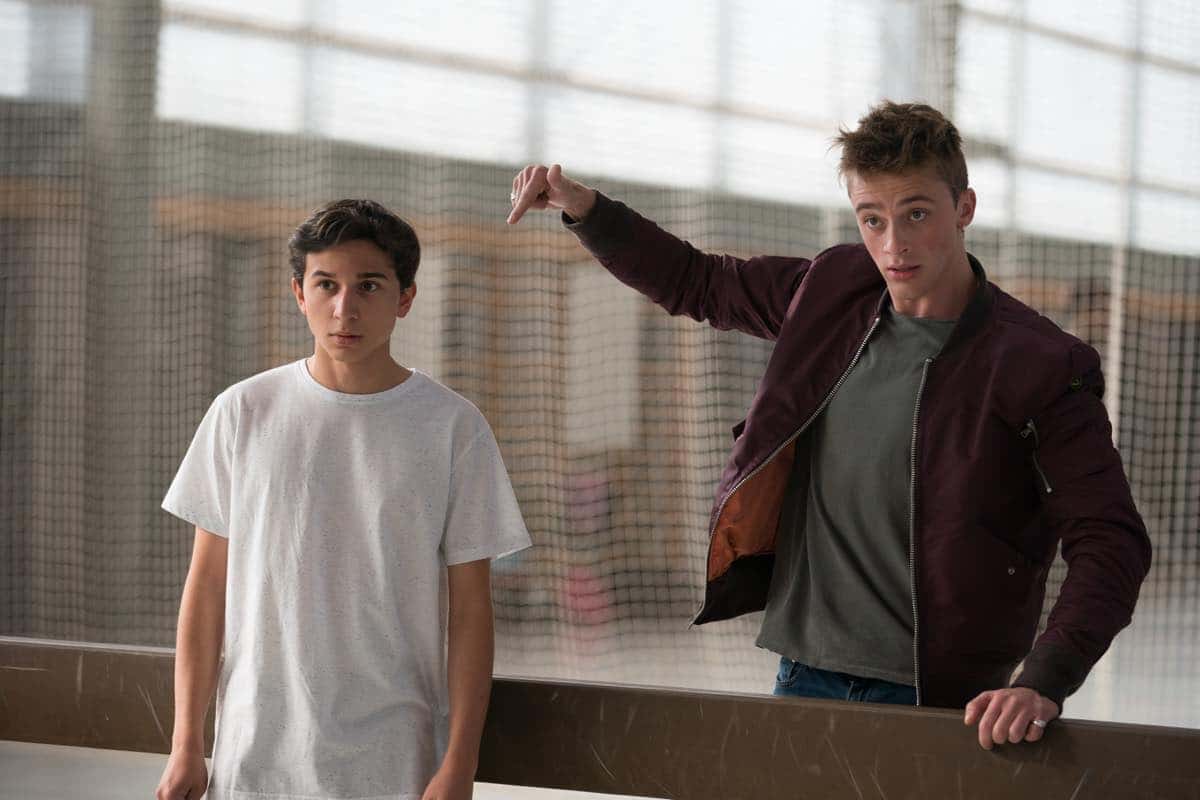 Thomas Guy (left) and Benjamin Voisin (right) in Man Up! (Un vrai bonhomme)
From my review:
Benjamin Voisin has been everywhere this year — as a queer teenager coming out in Proud, as the object of desire in Summer of '85 and now in Man Up! (Un vrai bonhomme) — and you'd be hard-pressed to realise it was the same actor (I didn't).Benjamin Parent's Un vrai bonhomme is very much Thomas Guy's film, who plays the central character, Tom, grieving the loss of his brother while starting at a new high school, without having properly dealt with his anxiety that can lead to violent outbursts. To cope, Tom imagines that his brother, Léo (Benjamin Voisin), is always by his side, offering advice and support — even if it's terrible advice based on masculine ideals Tom has trouble recognizing as problematic. Guy is utterly convincing and compelling as a sensitive boy who doesn't know how to talk about his feelings or ask for help, but who occasionally opens up enough to find genuine friendship and romantic connection. Though the female characters who act as signposts to Tom's development are disappointingly underdeveloped, Tom's journey to find himself, and say goodbye to the ghost of his brother, are heartfelt and often funny.
Antoinette dans les Cévennes – Nov 20-22
Laure Calamy has been great in Justine Triet's films, and it's nice to see her get a showcase role in this comedy about a woman in her 40s.
From my review:
We first meet Antoinette (Laure Calamy) in her classroom, where she has her elementary school students, counting, heads down on their desks, while she changes into a silver dress at the back of the class. It's for a class concert where she starts belting out a tune with such fervor that she starts to eclipse her dressed-in-black students as the centre of attention. It's also the first sign that Antoinette falls somewhere on the bananas scale from zero to Sibyl (who, of course, is 100% bananas), and that the film is going to be a gentle comedy slightly at the expense of Antoinette's shenanigans.
Slalom – Nov 21-22
I think this may be my favourite film of the festival. Noée Abita (who we loved in Ava and Genèse) stars as a 15-year-old slalom skiier training for the Olympics. Living alone for the first time in a place without a support network, she gets groomed by her coach (Jéremie Renier) to be a victim of his abuse — both sexual and psychological. This first-time feature from Charlene Favier was selected at Cannes, and marks an exciting new directorial voice. The film keeps us almost entirely in Abita's character's perspective whose conflicting emotions about her skiing, her coach, and what it all means are complex and play out in Abita's physicality and facial expressions. My review will be coming soon, but do not miss this treasure.
Toronto Jewish Film Festival encore – available across Ontario
One last chance to catch one of my highlights of the year which still does not have distribution.
The End of Love – Nov 22-23
Keren Ben Rafael's The End of Love was one of our top picks of acquisition titles on the festival circuit. This weekend, it's availble in Ontario as a Toronto Jewish Film Festival encore screening.
Now that the world has been in various stages of lockdown for the better part of the year, the Zoom play (Old Vic In Camera, Big Telly's Macbeth) and the Zoom TV/film (Staged to Coastal Elites) have become commonplace. But before that, films like 10,000km and more recently, The End of Love, explored the trials of long-distance relationships when your only connection is technological, by that now seemingly obsolete program Skype. Judith Chemla and Arieh Worthalter star in Keren Ben Rafael's The End of Love, as Parisian married couple Julie and Yuval, who end up in separate countries for months as Julie is forced to care for their newborn on her own. Yuval is Israeli, and he has to go home to get his visa renewed, only it takes longer than expected, or, at least, that what he claims, though Julie later realises he's avoiding coming back to his family in Paris. The entire film takes place in video conversations over Skype in Paris and Tel Aviv, as their marriage and communication break down. Rafael invents cinematic grammar for showing this kind of communication while telling a smart and nuanced relationship story about a man who won't grow up, and a woman who decides to stop waiting for him to.​
RIDM – No Ordinary Man + Wintopia – Quebec only
Quebec's annual showcase of documentary cinema is available online this year across Quebec. The full program is available here. The festival has been divided into sections with multiple films (features and shorts) available as a package deal for $15.
Two of our festival favourites from Canada are available as a single package this weekend until Nov 25 for just $15 total: No Ordinary Man and Wintopia.
Scroll down to the DOCNYC section for info on No Ordinary Man + links to our coverage.
​Check out our interview with Wintopia director Mira Burt-Wintonick​
Monkey Beach is back at Red Nation International Film Festival — around the world until Nov 30!
​Tickets to rent the film are $10 and you have one week to watch (and rewatch) it. Click here for tickets.​
One of the best and most beautiful films of the year is a) Canadian b) Indigenous and c) available to rent around the world for the rest of the month! Watch it while you can!
I recently talked to writer-director Loretta Todd about the film and how she was inspired by the Native oral tradition in the making of it. Here's an excerpt from the interview:
In my filmmaking I've tried to do that, create these beautiful moments that use the technique of oral tradition. The oral tradition isn't being replaced, but it's being replicated in the experience of the film. As opposed to the literary devices of plot points and three acts being the things that drive the experience, for me, it's the sensual experience of sound and visual combined. They create a feeling of safety so you can let emotions come out.

I like the epicness of who we are. I don't want us to be diminished by the screen, I want you to feel our epicness. I mean, you can't have survived colonialism and not be epic. I try to convey that even when it's still in naturalism. I admire people like Isaac Julien and Tracey Moffat who come from an installation practice. You can feel the epicness with which they place bodies in space, move bodies through space, and use space. I'm not coming from formal art practice like them, but I try to think about those things.
​Read the full interview with Loretta Todd here.​
​Listen to us discuss the film on our podcast here​
Berlin and Beyond – SF Bay Area – until Sept 21
All films are accessible to residents with zip codes in these six Bay Area counties: San Francisco, Alameda, Contra Costa, Marin, San Mateo, and Santa Clara.
​Click here to stream the films at Berlin and Beyond​
When Hitler Stole Pink Rabbit
From my review:
Judith Kerr's beloved children's novel gets a worthy adaptation from German director Caroline Link in this film that balances the hardships and fear of being a refugee with the optimism of childhood. As the 1933 German election looms, Anna Kemper's (Riva Krymalowski) father, Arthur (Oliver Masucci), a prominent Jewish intellectual, gets a warning that if Hitler wins, he's at the top of the list to be rounded up for arrest. The next day, he flees the country, and Anna, her brother, Max, and their mother, Dorothea (Carla Juri), follow soon after, leaving behind their large family home and bourgeois lifestyle for an increasingly difficult life abroad as refugees.
Undine
From my review:
Christian Petzold's Undine tackles the Ondine myth of the mermaid who leaves the sea, falls in love, is betrayed, and must go back to the sea. Transporting the story to modern-day Berlin in Undine, Petzold uses the myth to tell a love story set against the backdrop of a city that has changed on the surface, but changed very little in other ways since the Third Reich. The kind of rebirth and repeated cycles of Ondine map nicely onto the story of German historical amnesia: same place, same people, same problems, but dressed up as something different. Although Undine is less effective as a meditation on German history than Petzold's other films on this subject (Barbara, Phoenix), there are some fascinating ideas explored that I suspect will benefit from a second viewing.
My Little Sister – available in California
YMMV on Switzerland's Official Entry to the 2021 Academy Awards, My Little Sister. Come for Nina Hoss and Lars Eidinger, two of the best actors working in Germany today, stay for all the meta stuff about the Schaubüne theatre, and don't expect TOO much from this story of a brother and sister who are too close (the acting is top notch).
IRL, Eidinger and Hoss are both company members at the Schaübuhne in Berlin. So it's funny that in the film, Eidinger plays an actor that is not him, but who plays Hamlet in Ostermeier's production at the Schaubühne (which Eidinger has done, and we discussed on the 21st Folio podcast).
…except Ostermeier is in the film, also, playing a character that is not him, but definitely directing his version of Hamlet, in which Eidinger's character (as well as Eidinger in IRL, it's the play that launched his career) stars. So when you see Eidinger's photo up on the wall of the Schaubühne, that's real — from his actual work on the IRL Hamlet in the film. It's so meta!!!
DOCNYC – until Nov 29, across the US
DOCNYC has extended the run of 70+ features until November 29! You can purchase an all-access encore pass for $99 or purchase individual tickets for $12.
​Click here for a complete list of available films and links to purchase tickets​
'Til Kingdom Come
One of my favourites at the festival is also an acquisition title so this may be one of your only chances to catch the film.
From my review:
The unlikely alliance between two groups of religious extremists — American Evangelical Christians and Israeli Jewish settlers — is the subject of Maya Zinshtein's (director of the excellent Forever Pure) latest documentary about religious extremism. Zinshtein's film explains that millions of American dollars have been funnelled into philanthropic efforts in Israel to help marginalized Jewish people, while the local American Evangelical Christian communities remain some of the poorest parts of the US. Most bizarrely, those Evangelical Christians are antisemitic, both self-proclaimed or obviously so from the speeches Zinshtein captures — one minister talks about how the holocaust happened because God allowed it to. Their interest in Israel is not to help the Jews, really, so much as to ensure they have a smooth path to Jerusalem should armageddon happen, which they expect will kill off two thirds of the Jewish population, while causing the other one third to convert.
Chasing Childhood
This one is also an acquisition title. While I didn't unabashedly love it, I did really like it and found it interesting.
From my review:
American parents have taken helicopter parenting to new extremes in Margaret Munzer Loeb and Eden Wurmfeld's new documentary, Chasing Childhood. Following parents across social classes and race, from rural to urban environs, Loeb and Wurmfeld diagnose an unexpected problem: children are over-scheduled, given very little freedom by their parents, and the result has been unprecedented levels of anxiety and depression.
The Dilemma of Desire
One of our favourites from HotDocs/Raindance is still an acquisition title so catch it while you can!
Here's an excerpt from Orla Smith's review of the film:
The Dilemma of Desire is a fascinating and exciting watch for how it gives the viewer new context and language with which to talk about desire. At the very beginning of the film, it's established that the word 'clitoris' has been erased even from textbooks about human biology. You'll find plenty of mentions and diagrams of penises, as well as tens of thousands of studies of the penis online, but only a fraction of that is dedicated to the clitoris. In part, the documentary suggests, this is due to the overwhelming dominance of men working in scientific fields. But it's also about ingrained patriarchy: the women interviewed in the documentary talk about how they'd never thought to ask those questions, and for many of them, it took a wake-up call like Wallace's art to start asking them.
​Click here for tickets to The Dilemma of Desire​
Love & Stuff
Here's B.P. Flanagan on the film:
Judith Helfand's Love & Stuff is a memoir covering the last months of her mother's life and her subsequent adoption and adjustment to motherhood, Helfand explores the camera as a self-professed 'umbilical cord' between daughter and mother. The material link of video footage proves her major creative inspiration, as well as the thing that holds her back personally. As she attempts to come to terms with the changes in her life, Helfand slowly tries to clear her apartment of her mother's things, stacked in boxes for years on end.
​Click here for tickets to Love & Stuff​
No Ordinary Man
This is one of the very best docs of the year and an absolute must see. Plus, it's Canadian! It's still looking for a US distributor though so catch it while you can!
From the introduction to Orla Smith's interview with the directors:
The story No Ordinary Man tells is one of lost transgender history that's finally being reclaimed. The film's subject is Billy Tipton, an influential jazz musician who worked between the 1930s and 1970s. It wasn't until 1989, when Tipton died in the arms of his son, Billy Jr., that Tipton's family and the public discovered that he was assigned female at birth. After his death, Tipton's story was twisted: Tipton was unequivocally a trans man, but the cis-dominated media presented him as a woman who dressed as a man in order to get a foot in the door in the music industry. Even the most cited text about Tipton's life, Suits Me: The Double Life of Billy Tipton by Dianne Middlebrook, framed his story around this harmful narrative.

In Aising Chin-Yee and Chase Joynt's hands, No Ordinary Man is no ordinary biographical documentary. They go way beyond the standard archival footage and talking head interview approach to tell Tipton's story. Joynt explained that "understanding that there was no moving image footage of Tipton was both a restriction and an opportunity for us to immediately start thinking creatively beyond the bounds of reenactment and other ways that biopics tend to be created." The film features photos and audio recordings of Tipton, as well as his music, and his life story is told through the words of talking-head experts, most of whom are trans. But another huge part of the film are "auditions" where the filmmakers invite a whole host of diverse transmasculine actors to act out and then dissect scripted scenes from Tipton's life.
Stateless
Another great Canadian doc that has yet to find a US distributor so catch it while you can!
From B.P. Flanagan's review:
In Stateless, director Michèle Stephenson contrasts two women in the public sphere: one deals with people, the other with reactionary ideals. In the aftermath of the supreme court ruling stripping citizenship from Dominicans of Haitian descent, nationality has been turned into a legal and bureaucratic labyrinth. Rosa Iris, a young attorney, attempts to help. As she educates local children and her neighbours about the functions of government, Stephenson cuts to verité scenes of street life.
VOD
Proxima – UK VOD
By now, you probably know that we think Proxima is the best film of the year! This weekend, it finally hits VOD in the UK (it's already available in the US and Canada).
Here's an excerpt from Orla Smith's introduction to her interview with writer-director Alice Winocour:
"The idea of the separation from Earth resonate[s] with the idea of the separation from the little girl," Alice Winocour told me, regarding her outstanding new film, Proxima. Eva Green plays Sarah, an astronaut in training who is chosen to take part in a space mission, something all astronauts dream of but many never get to do. When she tells her ex-husband (Lars Eidinger), who is also a colleague, all she has to do is beam at him, and he knows what's happened. Nothing else could make Sarah this happy.

But there are complications: namely, Sarah's young daughter, Stella. Sarah will be away from Earth and from her daughter for a whole year. But this isn't a film about whether or not Sarah decides to leave; there's never any doubt that she will go. Sarah adores her job, she's fantastic at it, and the film never judges her for wanting to do what she loves. Stella will be fine in the hands of her father, who's capable and loving, so Sarah doesn't have to worry about her little girl's well-being while she's gone. In fact, there's very little traditional conflict in Proxima. But that doesn't make it any less gripping.
We've gone deep on the film with three interviews — Winocour + two of her collaborators — and we'll be publishing essays by both me and Orla in the comign weeks so stay tuned!
​You can read all of our Proxima coverage thus far here, plus listen to our podcast about the film.​
Saint Frances – now in Canada, US, UK
Earlier this year, we talked about Saint Frances as part of our podcast on abortion on screen. It's finally available in Canada on VOD (and was already available in the US and UK). To celebrate, we've got a brand new interview with the film's director and writer by Lindsay Pugh. Here's an excerpt from Lindsay's intro to the interview:
Saint Frances is more than just a charming indie centered around a flailing millennial who can't get her life together. It's a deeply empathetic film about the collective struggles that all women face and the power that comes with sharing them. Outward "success" does not necessarily equate to internal peace and stability. In her first screenplay, Kelly O'Sullivan creates characters who are complex and nuanced, like people you would actually encounter in the real world. None of the events feel manufactured, and there is no drama for drama's sake. O'Sullivan and director Alex Thompson, who are also romantic partners, understand that every moment doesn't have to be heightened in order for it to feel meaningful.
​Click here to read Lindsay's interview with the Saint Frances creatives​
Small Axe
Steve McQueen's five-part BBC series about the lives of London's West Indies sees its second installment on Sunday with Lovers Rock, a highlight of the London Film Festival. A new 'episode' will drop each week, but Lovers Rock is essentially a feature film.
Lovers Rock – Sunday on BBC iPlayer
Episode two of Steve McQueen's Small Axe series airs Sunday on BBC iPlayer. Here's an excerpt from Orla's glowing review of the film:
Lovers Rock stands apart as the most lighthearted of the films, the only fictional story, and the only one with a female protagonist. The entire 70-minute film is set over one night, at a raucous and joyous house party run and attended by Black Londoners, where Martha (Amarah-Jae St. Aubyn) dances with her best friend, Patty (Shaniqua Okwok), and falls for a charming stranger, Franklyn (Micheal Ward). It's a love story, but one with a keen eye for the racial and gendered violence in the periphery while Martha and Franklyn pursue a sweet courtship.
Mangrove – Sunday on Amazon Prime in the US (and also now on BBC iPlayer)
If you're in the US, then you're one week behind the UK to watch Small Axe. The first episode, Mangrove, airs Sunday on Amazon Prime; it's already streaming in the UK on BBC iPlayer.
Here's an excerpt from Orla's glowing review:
Mangrove demonstrates both the physical brutality and the brutality of the justice system, before going on to illustrate what it actually means to fight against it. McQueen places the subtler systemic racism faced by The Mangrove Nine in the High Court on the same level as the racist physical abuse of the police. He dedicates the whole second half of the film, which is set almost entirely in a courtroom, to exploring this. McQueen's film pulls no punches when it comes to exhibiting the callous brutality of London's police force, but he focuses on how their violence disrupts peace and community over how it damages the human body. The first half of the film establishes the Mangrove restaurant in Notting Hill as a hub for the West Indies community: it's a place for them to eat food that reminds them of home and chat with friendly faces; McQueen shoots the interior in warm yellows while outside is a harsh blue. It's a shock, then, when this safe haven gets interrupted by a raid of police, who burst in through the doors without a word of warning and immediately start smashing the walls and furniture with their batons.​
​
---
Happy watching! As always, we're always curious to hear what you think of the films you've watched, and let us know if there's anything we've missed!
Best,
Alex Heeney
Editor-in-Chief, Seventh Row
You could be missing out on great films at virtual cinemas and film festivals near you.
Subscribe to the Seventh Row newsletter to stay in the know.
Subscribers to our newsletter get an email every Friday which details some of the best new streaming options in Canada, the US, and the UK.
Click here to subscribe to the Seventh Row newsletter.
Your next favourite film is waiting
Discover the best under-the-radar films and engage in a conversation about them
CAD 49.99/year. Renews automatically. Cancel anytime.
Available worldwide.