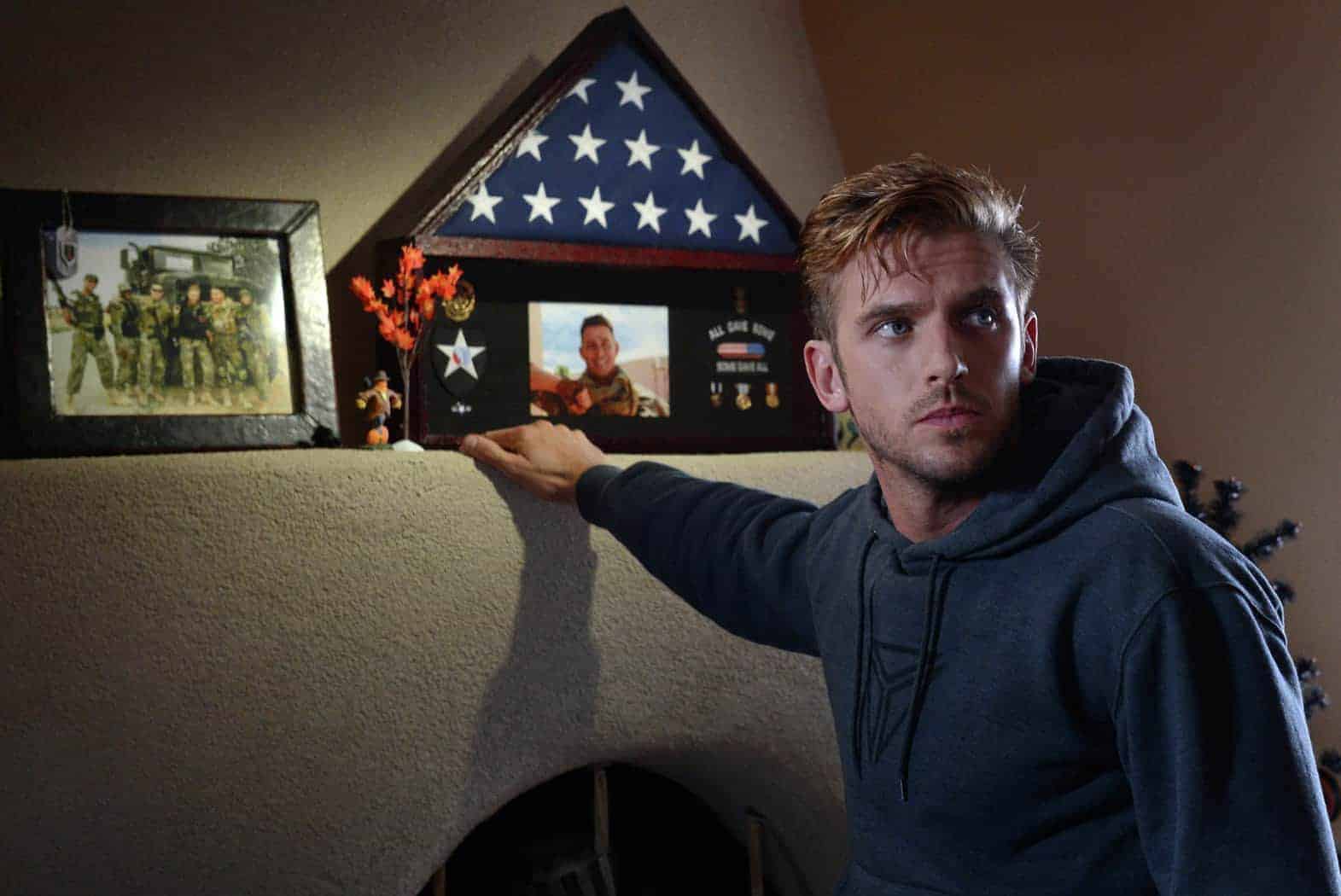 Fresh from getting himself killed off of Downton Abbey so he could explore other acting opportunities, Dan Stevens plays a soldier with a penchant for killing in The Guest. Fueled entirely on Stevens's charisma and its synthpop score, The Guest starts out intriguing until you realise the film and its protagonist are utterly vacant. But in the first half, at least, Stevens's irresistible grin, blue eyes, and calm cool are enough to keep you guessing, waiting with anticipation for the mystery to unravel. Too bad the screenwriter, Simon Barrett, had no interest in exploring his characters' motivations.
Stevens plays David, a recently discharged soldier, who, when he arrives at the Peterson household in a hoodie and a backpack with all his possessions, minces no words when explaining he's an army friend of their son, who died at war. Or, at least, that's his cover story. He is in the one photo the Petersons have of their son's platoon, but it's clear from the start that David is lying about who he is and why he's there. Although he's invited into the Peterson home as a house guest to tell the matriarch, Laura (Sheila Kelly), stories of her son at war, he sticks to platitudes about how much her son loved his family. David shares almost no personal details. He's got a burner phone, a suspiciously large amount of cash, and a tendency to react violently. It's no coincidence that the first image of the film is of David's boots on the ground, as he runs towards the Peterson home: he's a menace but a carefully disguised one.
He's disarmingly charming, with his Southern manners – all "yes, ma'am" and "yes, sir" – and his desire to befriend and listen to everyone in the family. David drinks beer with the professionally struggling patriarch Spencer (Leland Orser), listening to his woes. Before long the man in Spencer's way at work winds up dead; it doesn't take much to surmise that it was David's doing. He flashes his six-pack abs at the Peterson's ultra-cool daughter Anna (Maika Monroe) – a blond bombshell in a 1950s diner waitress uniform – to gain her affection, which works for at least a little while. His main target is their socially awkward teenage son, Luke (Brendan Meyer). who's getting bullied at school. David teaches him some self-defense, becomes his only friend, and enacts some vengeance that's at once badass – how Luke sees it – and the mark of a psychopath. But as soon as David is alone, the camera lingers on him in closeup as his warm smile vanishes, only to be replaced by a cold-blooded stare.
When David seems to be getting rid of anyone in the Peterson family's way, he's at his most interesting. Why does he care so much about this family? And what is he doing here, after all? But as soon as the killings or disappearances become random, more an excuse for a stylish display of gushing blood and horrific deaths, the film loses momentum. The explanation we finally get for his behaviour is recounted like a bad TV movie, and it is too pedestrian for this otherwise compelling and mysterious character.
There now seems to be an unwritten rule that pulp films need to have at least one scene with prominent red, yellow, blue, and green light, illuminating the protagonist's face. It was key to the aesthetic of the much superior Cold in July, frequently showed up in the more dystopian tale, The Double, and rears its head again in The Guest – most notably at a party where David's taking drugs and acting suspicious. It's hardly the only cliched part of the film's aesthetic. Everything builds towards a chase sequence, which ends up in a haunted house – the film is, after all, set near Halloween – where synthpop plays in the background, for no other reason than that it's going to be the coolest looking way to scare up a storm, not unlike Joe Wright's equally preposterous Hanna, which culminates with a sequence in similar house of horrors. Even Anna's job as a diner waitress seems to have been chosen solely so that we can see her in adorable – and to be fair, kind of exploitative – outfits. She may not have a pixie cut, and she may be the only one smart enough to sniff out David's lies, but in pretty much every other way she's either a Manic Pixie Dream Girl – with her semi-braided hair, short skirts, and just enough intelligence to keep the plot going – or a Damsel in Distress.
With The Guest, Stevens has certainly turned his screen persona on its head: his cold-blooded psychopath here is a far cry from the simpering, love-sick, buttoned-up Matthew Crawley of Downtown Abbey, the character that brought him fame. He was one of my favourite characters on the show, notwithstanding the horrifically melodramatic second season, but until The Guest, I had no hankering to see him show up onscreen in notably different roles. But here, he carries an otherwise flimsy film, which remains compelling, especially in the first half, entirely because of his screen presence. Often, taking on an American accent can flatten out a Brit's vocal contours, limiting their vocal expression. Here, that doesn't matter because David is so cool, assured, and never emotive. The Guest may not be worthy of Stevens's talents, but it's a great showcase for them: he's loose and unpredictable in an exciting way.