Like the queasily dated Whatever Works — a film Allen wrote in the 1970s — Cafe Society insists on archaic gender politics.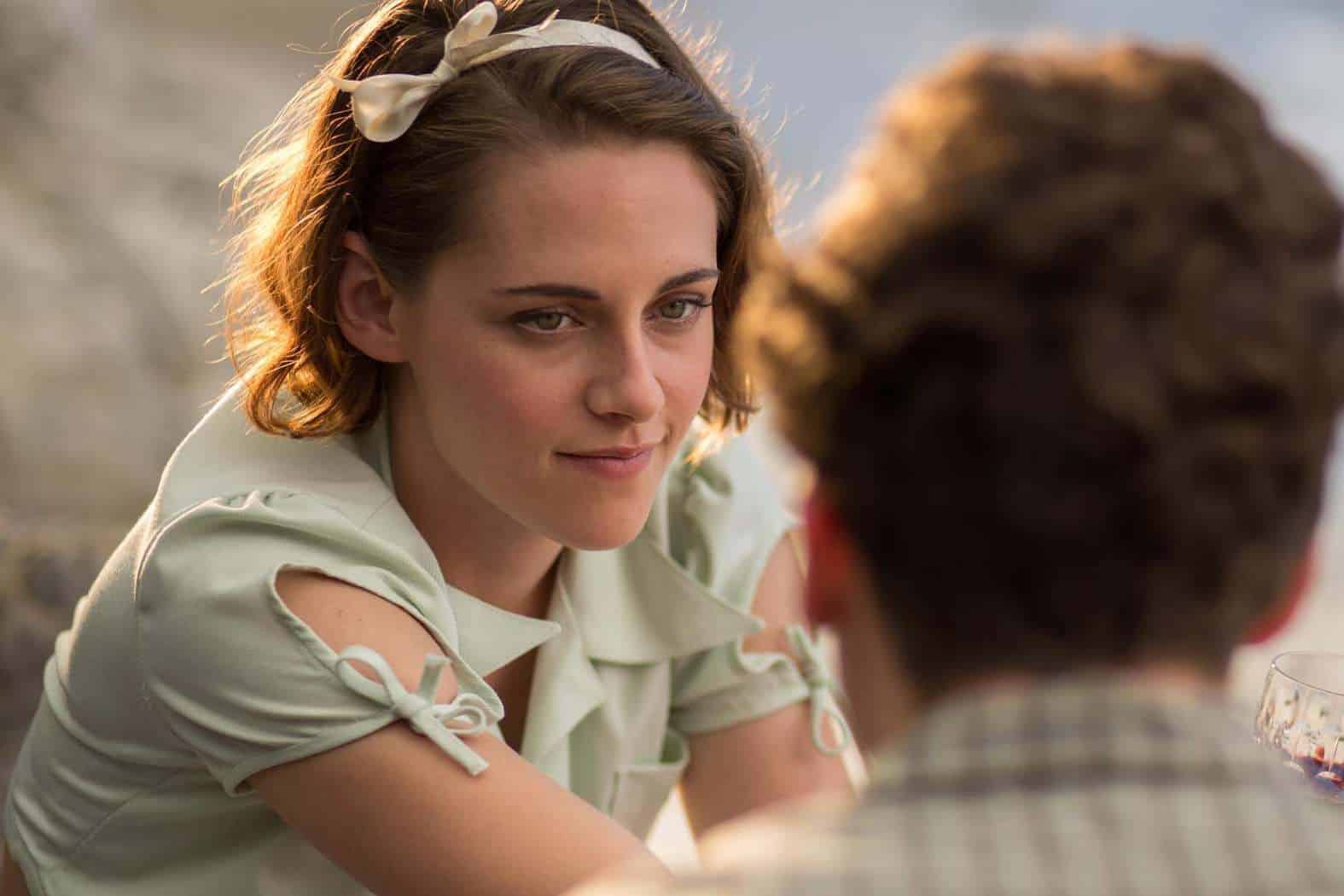 Late period Woody Allen has tested the limits of taste, particularly when dealing with gender politics. But his last film, Irrational Man, gave us some hope that the director was aware of the cringe-worthy self-obsession and general awfulness of his male characters. The decidedly un-tragic death of Joaquin Phoenix's paranoid and selfish philosophy professor in that film suggested at least some contempt for the archetype on Allen's part. The independence of his winsome college-student girlfriend (Emma Stone) was almost euphorically refreshing, standing out from a slew of movies about older men seducing impressionable, alarmingly young women.
However, this spark of intelligence is mostly gone in Cafe Society, Woody Allen's latest which just opened the 2016 Cannes Film Festival. The film fits within a current wave of movies about old Hollywood such as Trumbo and Hail Caesar. But Cafe Society is as backwards as the era it depicts. Like the queasily dated Whatever Works — a film Allen wrote in the 1970s — Cafe Society insists on archaic gender politics.
Bobby (Jesse Eisenberg) is a young New Yorker who moves to Hollywood to spice up his life. There, he falls in love with Vonnie (Kristen Stewart) who is already involved in a serious and quite touching relationship with a much older, married man. But such obstacles don't deter the insistent Bobby. It's only by unashamedly taking advantage of Vonnie in a moment of vulnerability that he succeeds in hounding her into a relationship.
In CAFE SOCIETY, Stewart's talent feels wasted on an underwritten character.
Click To Tweet
Sadly, this is only the tip of the iceberg of Bobby's wretchedness. In an early sequence, he insults and humiliates a sex worker. On a couple of occasions, he mentions how handy champagne can be for getting a woman into bed. The sheer repulsiveness of these moments sometimes drew laughs and gasps of surprise from the audience. But whether Allen was intentionally being funny here is still open to debate: the film often espouses the very misogynistic attitude of its ridiculous main character.
Kristen Stewart proves yet again that she is one of the most magnetic actresses out there, her face the mirror of Vonnie's conflicting emotions. Yet her talent feels wasted on an underwritten character. Bobby's offensive remarks pass unnoticed by Vonnie. At first, thisseems to signal her utter disinterest in him. But since this is a Woody Allen film, Vonnie eventually falls desperately, depressingly in love with this charmless jerk. It's only then that we realise she is merely oblivious. If Allen still made films where women actually noticed the anxious paranoia and selfishness of his stand-in — think of Diane Keaton in Annie Hall — Stewart's talent for subtle emotional expression could have worked wonders. But here, no such luck.
Read more: Jesse Eisenberg stars in Louder Than Bombs, a deeply empathetic look at a family, grief, and memory  >>
Jesse Eisenberg's stern, inexpressive face is well-suited to Bobby — a character completely incapable of introspection. It's a departure from the typical Woody Allen protagonist. In films like Hannah and Her Sisters and Crimes and Misdemeanours, Allen's neurotic lack of self-confidence made him sympathetic and funny, and most importantly, it almost excused his awkward interactions with women. But without that self-deprecating air, all that's left in Bobby is Allen's ugly attitude toward the opposite sex. Eisenberg plays Bobby with the mechanical air he perfected in The Social Network, but his portrayal feels strangely, disappointingly one-sided.
Master Vittorio Storaro's (Apocalypse Now) exciting and constantly evolving cinematography is the main reason Cafe Society is still worth seeing. He creates anticipation in each sequence by beginning each with a gorgeously constructed and colourful still frame, which the action gradually animates as it develops. But nothing can prepare you enough for the film's brutal sexism. Slim pickings, indeed.
Read more: Stewart and Eisenberg elevate the shit out of American Ultra >>