Seventh Row's editors pick the 20 leading performances they loved most from the films of 2020. This is the first piece in our 2020 wrap up series.
Over the next few weeks, we'll be publishing longer For Your Consideration essays on some of the best work on films this year, including the performances of Vanessa Kirby, Riz Ahmed, Virginie Efira, and Vincent Lacoste. Read those essays here.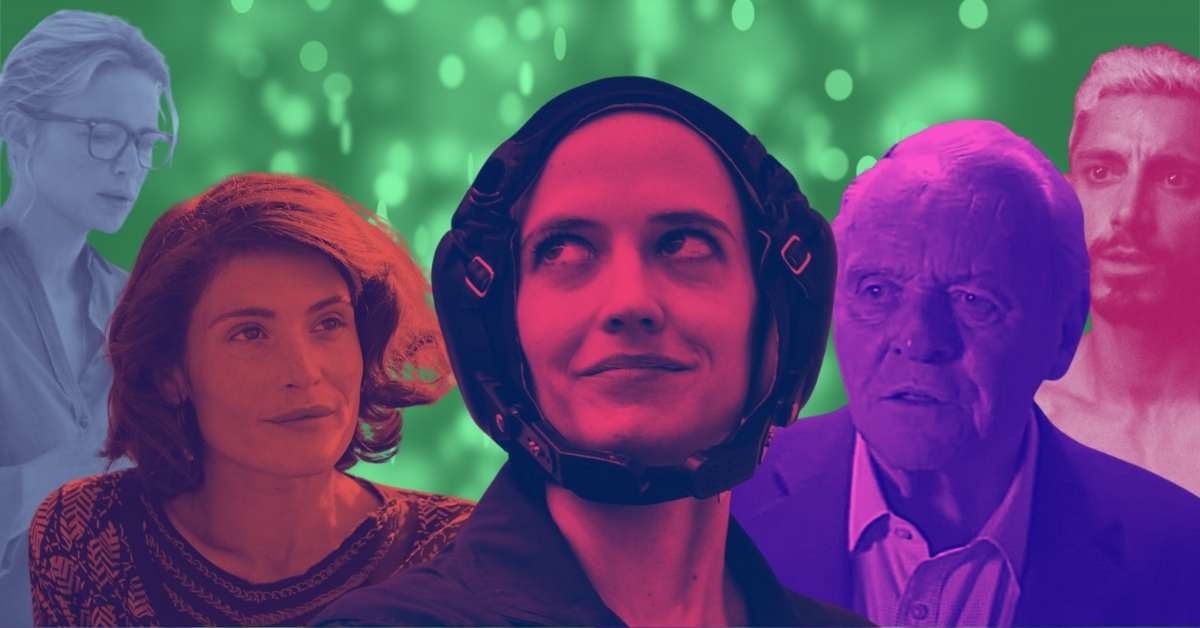 Keep up with the best socially progressive hidden gems of international cinema with The Seventh Row Newsletter. The newsletter features exclusive content and recommendations you won't find on the website.
Click here to sign up for the Seventh Row Newsletter.
A great performance, as defined by many of the entries in this list, is marked by the instinct to go small when lesser actors would go big. Or if you're Virginie Efira in Sibyl or Mariana Di Girolamo in Ema, it's the ability to embody thrillingly weird characters in a way that pops off the screen and still somehow feels real. Each of these performers matches the energy of their respective film, and even elevates it with added layers of complexity. They range from performers we've loved for decades — like Kate Winslet and Anthony Hopkins — to newcomers — like Kuessipan's Sharon Ishpatao Fontaine.
We wanted to highlight a few breakout performers who didn't quite make the list, but whose careers we're excited to see flourish. Amarah Jae St. Aubyn (Lovers Rock), Jayme Lawson (Farewell Amor), and Roxanne Scrimshaw (Lynn + Lucy) shone in their screen debuts. TV stars Josefine Frida (Disco), Kacey Rohl (White Lie), and Natalie Dyer (Yes, God, Yes) excelled in their first, or one of their first, lead roles in a feature film. Claire Dunne has impressed us in theatre, and did so again in the film Herself, which she also wrote. We've been Tamara Lawrance fans for ages, but were glad to see her finally getting some mainstream recognition in Kindred and her supporting turn in Education. Finally, young French actor Benjamin Voisin kept cropping up in projects this year, from Summer of '85 to Proud to Un vrai bonhomme, and his range across all three is immensely impressive.
As for general honourable mentions, it was painful to have to leave off the following: Radha Blank (The Forty-Year-Old Version), Hong Chau (Driveways), Gillian Jacobs (I Used to Go Here), Bethany Anne Lind (Blood on Her Name), Kelly O'Sullivan (Saint Frances), Chelsea Peretti (Spinster), Amy Ryan (Lost Girls), David Thewlis (Guest of Honour), Guillaume Canet (Au nom de la terre), and Odessa Young (Shirley).
Without further ado, here are our 20 favourite lead performances of the year.
Riz Ahmed, Sound of Metal
An excerpt from our essay on Ahmed's performance: "From Shakespeare to noir, surfer dude to reluctant fundamentalist, at this point, it seems like there's nothing Riz Ahmed can't do. He's also that rare actor that can play a very smart character (The Reluctant Fundamentalist) and a very stupid one (Girls) with equal aplomb. He's one of the most versatile and compulsively watchable actors working today to the point that he makes any film he's in a must see just for his performance.
Sound of Metal is one such film, and director Darius Marder is completely attuned to Ahmed's performance so that we are, too. Ahmed stars as Ruben, a heavy metal drummer and recovering addict whose sudden hearing loss nearly leads him off the wagon, which precipitates a sojourn at a rehab centre for the deaf. Because Ruben spends much of the film unable to communicate, Ahmed has to convey his complex journey — accepting the changes to his body, dealing with his anger, and avoiding a relapse — almost entirely physically. When we meet him, he's relaxed, his movements fluid, and he has incredible tenderness with his girlfriend (Olivia Cooke) whom he wakes up one morning with the gentle caress of a drumstick. Once he starts to lose his hearing, Ahmed will become stock still, trying to make out the sounds around him to no avail, and trying not to panic." Alex Heeney
Our full essay on Ahmed's performance will be published soon.
Sound of Metal is available on Amazon Prime in the US and on VOD in Canada. It will be released in the UK on January 29 2021.
Mila Al Zahrani, The Perfect Candidate
"Women are often shown as angry, and their emotions are judged," writer-director Haifaa Al-Mansour told me when I asked her about casting The Perfect Candidate. "I wanted someone who can bring this feistiness but still maintain dignity." She found that in aspiring TV star Mila Al Zahrani, who had never acted in a film before. Her character, Maryam, a small town doctor in Saudi Arabia, runs for local office in a culture where women in politics are virtually unheard of. Al Zahrani doesn't play Maryam as your typical idea of a fiery trailblazer. She doesn't have the luxury of a breakdown, because losing her composure for even a second would mean losing credibility with an already skeptical public. Sometimes, facial expressions are even literally hidden by a niqab (although we can often still sense what Maryam is feeling through Al Zahrani's body language). Al Zahrani's performance is incredibly contained: she expresses Maryam's frustration at an unjust system not in words or grand physical gestures, but in hard stares and tense body language. Orla Smith
The Perfect Candidate is available in the UK on Amazon Prime and will be distributed in the US by Music Box Films, likely in 2021. It is still seeking distribution in Canada.
Read our interview with Haifaa Al-Mansour.
Gemma Arterton, Summerland
Gemma Arterton seems to have settled into an extremely specific niche of playing women writers finding and losing love during World War II (or in the case of Vita & Virginia, pre-World War II). But while Catrin in Their Finest and Alice in Summerland share similar circumstances, they couldn't be more different. Arterton's Catrin is a soft-spoken, meek woman who's strong but reluctant to flaunt her strength; her Alice is a downright misanthrope, and delightfully so.
The flawed but big hearted Summerland lives and dies by Arterton's performance, and she makes the film feel utterly alive. Alice is a kind of female protagonist we rarely see: a grouch who never grows out of being a grouch, even when she finds happiness, and who we love all the same. Arterton relishes Alice's snarky comebacks while always conveying a sense that her barbed personality is a shield to keep others from seeing her vulnerability, particularly after a past relationship (seen in flashbacks) with a woman named Vera (Gugu Mbatha-Raw) ended in heartbreak.
When Alice does finally let her guard down, it's heartbreaking. In one scene, she hesitantly asks the young evacuee who is staying with her, "Would you think it was strange if a woman loved another woman?" When he replies, "No," Arterton lets out a sudden laugh that quickly dissolves into uncontrollable tears. A lesser actor would overemphasise that moment, but Arterton plays it with grace and subtlety, so it feels as if Alice is trying desperately to hold back a burst of emotion until she no longer can. OS
Summerland is available on VOD in Canada, the US, and the UK.
Nicole Beharie, Miss Juneteenth
From our review: "The shining light of Miss Juneteenth is Nicole Beharie, who, with a deep breath, a crease of the forehead, or a small gesture, reveals a kind, intelligent, and loving woman who is in over her head because the system is stacked against her. She tries and tries and makes so many well-intentioned mistakes, until she finally starts to listen to what people around her are telling her — about how and whether to bet on them — and more importantly, learns to put her needs ahead of people who will only bring her and her daughter down." AH
Miss Juneteenth is available on Kanopy in the US and on VOD in Canada and the UK.
Virginie Efira, Sibyl
An excerpt from our essay on Efira's performance: "It's extremely hard to pin down Sibyl, a film that refuses to be any one thing, shifting tone from melodrama to thriller to farce and back again, all in tune with its protagonist's own rollercoaster of emotions. How do you make sense of a character who is an alcoholic who has tried to strictly control her life, gotten bored, tried to return to the place where she was when she stopped drinking, only to be caught in the web of a series of dramas?
And yet Virginie Efira pulls it off effortlessly, creating a woman who is a hot mess in a performance that is deliberate, thoughtful, and utterly cohesive. Efira began her career as a comédienne in rom-coms, which led to her first collaboration with Justine Triet, In Bed with Victoria. Since then, she's taken on more dramatic roles, whether as a woman caught in an on-again-off-again abusive relationship in Un amour impossible or a cop making dubious choices in the thriller Night Shift. In Sibyl, she weaves all of these sensibilities into a single performance to create a character who is hilarious, cringe-worthy, and loveable in her incredibly unloveable bad choices. In other words, she's a strikingly real woman despite being caught in, and creating for herself, absurd situations."… AH
Keep reading our essay on Efira's performance.
Sibyl is available on VOD in Canada and the US. It is still seeking distribution in the UK.
Julia Garner, The Assistant
Without much dialogue, Julia Garner gives a brilliant performance as Jane, assistant to an abusive boss at a film production company. She never says that she dislikes her male co-workers, but the way she flinches as they touch her or does a small double-take when she feels them staring is more revealing than words. During a tense phone conversation with her boss's wife, she edges her body away from them in an attempt to create a semblance of privacy amidst the office's open floor plan. Achieving near invisibility is Jane's goal, but it's difficult with the other assistants constantly hovering, waiting to relish in her inevitable humiliation. Anything within her control that makes Jane vulnerable — like eating, phoning her mom, or making eye contact — is reserved for moments of privacy. While emotions are mostly stifled, Jane can't erase the tension that her body holds. Her jaw, constantly clenched, telegraphs the effort it takes to internalize the constant abuse.
Jane's entire work persona is meticulously crafted for extreme neutrality, which makes the scene where she's caught with a doughnut hanging from her mouth one of the film's most horrifying moments. Another deviation occurs in the scene where Jane blusters like a horse with the boss' daughter. After watching her complete a series of regimented tasks for much of the film while pretending to be an emotionless ghost, it's jarring to see her so animated. Jane's bluster is a release of everything that has been pent up over the course of her shitty work day. Thanks to Garner's careful body language that builds and shifts as the film progresses, we understand Jane's interiority even though it's never explicitly expressed. It would be easy for a lesser actor to get lost in the mundanity of this role, but Garner seizes every opportunity for character development, making this performance one that I'll remember for years to come. Lindsay Pugh
The Assistant is available on Crave+ in Canada, Hulu and Kanopy in the US, and Now TV or Sky Go in the UK.
Read our interview with Kitty Green.
Mariana Di Girólamo, Ema
Pablo Larraín's Ema is about a dancer, and features many entrancing dance sequences led by the incredible Mariana Di Girólamo, who plays the titular character. Di Girólamo's entire performance is informed by dance, not just the dance routines. Her compelling physical performance became all the more impressive to me when I saw her in person, out of character, at the Q&A after the film's screening at the 2019 London Film Festival. In real life, Di Girólamo is poised and elegant; as Ema, she is a feral beast.
True to her occupation as a dancer, every move Ema makes is propelled by emotional instinct rather than logic. That's reflective of her actions in the film, too: she burns down buildings when she feels like it, and sleeps with whomever she wants. All the while, she's trying to reclaim the adoptive son she previously rejected, but her desire to be a mother jars with the way she slouches like a teenager. Ema is a wild and often baffling film with a rollercoaster of a plot, but Ema herself remains in full focus throughout. Although Ema's actions are (delightfully) ludicrous and kind of unexplainable from a logical standpoint, Di Girólamo ensures we're always in step with her emotional journey. OS
Ema is available on Mubi in Canada and All 4 in the UK. It will be released in 2021 in the US.
Read our interview with Mariana Di Girolamo and Pablo Larraín.
Holliday Grainger, Animals
The highlight of Sophie Hyde's Animals is the luminous Holliday Grainger, who delivers her richest performance yet as Laura, a party animal reckoning with adulthood. Grainger embodies an outwardly charismatic woman who harbours masses of confusion and self doubt. Laura has spent her twenties living recklessly, drinking copious amounts of white wine, and doing a lot of drugs in Dublin with flatmate and best friend Tyler (Alia Shawkat). As her thirties approach, and she struggles to jump-start her career as a writer, Laura is forced to reckon with what she wants out of life and whether that means giving up her carefree lifestyle.
Grainger expertly navigates a rocky coming-of-age arc as Laura is pulled back and forth between her party lifestyle and responsible adulthood. Laura flits between being funny, seductive, childish, and sincere. Grainger's bright, watchful eyes also communicate her intelligence, although Laura doesn't always have the willpower or focus to put that to good use. Every time Laura tries to take the mature, sensible option, she's pulled back into recklessness, often by Tyler. We can see Grainger, thinking, weighing up her options, being tempted, trying really hard to protest, and then caving all at once — again and again and again. It's a performance so kinetic and complex that I can't wait to revisit the film to see what details I missed. OS
Animals is available on VOD in Canada and the US, and on Amazon Prime in the UK.
Read our interview with Sophie Hyde.
Eva Green, Proxima
Midway through Proxima, astronaut Sarah (Eva Green) performs a feat of emotional and physical juggling as she changes hurriedly for training while talking to her daughter, Stella (Zélie Boulant), on the phone. Her face and her voice stay with Stella: she frowns when she hears her daughter is having trouble at school, and her speech comes out concerned and comforting, if a little rushed. As far as Stella knows, her mother's attention is hers and hers alone. In reality, Sarah is balancing the phone awkwardly between her shoulder and her ear while she yanks herself into a wetsuit; she's trying to concentrate on what Stella is saying while noting her colleagues' insistence that she hurry up.
This kind of multitasking is present throughout Eva Green's stunning performance in Proxima: she's always doing one thing while thinking about another; feeling guilty about not being there for her daughter when she's at work, or worrying about work when she's with her daughter. Green and director Alice Winocour make visible the invisible labour performed by working mothers. Proxima is not a film about a woman choosing between work and motherhood — she gets to have both — but Green makes sure to signal Sarah's divided self, so we notice how the guilt piled on to working mothers makes both tasks that much harder. OS
Proxima is available on VOD in Canada, the US, and the UK.
Read our Special Issue on Proxima.
Debbie Honeywood, Sorry We Missed You
Midway through Sorry We Missed You, Ricky (Kris Hitchen) and Abbie (Debbie Honeywood) are at home talking to their son, Seb (Rhys Stone), about his recent suspension. Honeywood sits at the table next to Seb, staying calm, giving him her full attention. It's the first time we see her very visibly managed stress: she strokes a hand up and down the centre of her face, trying to remain calm, fidgets with her hand on her chin, never letting go of her cup of tea. The more Ricky screams selfishly, the more she struggles to hold it together, avoiding his gaze, then looking away from her son, so upset about what's happened, but trying to keep the peace. And then she snaps. She suddenly raises her voice, stands up, and screams at him about what should be obvious to him but isn't because he's so caught up in his own world of stress.
From the start of the film, Honeywood plays Abbie as a calming presence, staying still where her husband paces, soft-spoken when he's prone to outbursts. She moves slowly and calmly, even when helping her patients in what feels like stressful situations. When she calls home to tell her daughter she's left food for her, we can see the stress in her face, but she keeps her tone sweet and calm, as she rushes. Throughout the film, Honeywood plays Abbie as someone so caring and compassionate that she's resigned herself to being inconvenienced and to struggle to help others — whether it's giving up her car so her husband can start an inauspicious delivery franchise or offering love and care to her children when she barely has time to sleep. Only once do we see her being cared for, as one of her patients tenderly strokes her hair, and sitting almost fetal, Abbie weeps, finally letting out the emotion she works so hard not to burden her family with. AH
Sorry We Missed You is available on Criterion Channel and Kanopy in Canada, Criterion Channel in the US, and Amazon Prime in the UK.
Listen to our podcast episode on Sorry We Missed You and Peterloo.
Anthony Hopkins, The Father
At 82, Anthony Hopkins shows no signs of slowing down, still turning out amazing performances on an almost annual basis. After giving us one of the best King Lears I've ever seen, he's back in The Father as a man losing his mind as he copes with dementia. The film is told from the perspective of his character, Anthony, a man who is never quite sure where he is (the sets shift) or whether his daughter is played by Olivia Colman or Olivia Williams.
At his most lucid, Anthony can be a charmer and a raconteur, tap-dancing and open, but he can just as easily shift into firing off nasty barbs with absolutely no care for the feelings of others. At his most confused, he can be compliant, calm, even kind. And at times, he is so scared, he turns in on himself and becomes like a small child. Always, he's a man thinking, trying to sort the real from the imagined, trying to understand the world he's in, and when he's confident enough, exert control over every situation. It's a testament to Hopkins that all of these seemingly distinct identities feel like sides and shades of the same man — a man who is on the verge of losing his identity. AH
The Father will be released to general audiences in 2021.
Sharon Ishpatao Fontaine, Kuessipan
Innu actress Sharon Ishpatao Fontaine anchors the big hearted but messy coming-of-age tale Kuessipan with her charismatic, compelling debut performance. Kuessipan stood out from the myriad other coming-of-age films at TIFF '19 largely because of the layers Ishpatao Fontaine lends to her character, Mikuan. We meet the teenage Mikuan in a club with her best friend, and the way Ishpatao Fontaine reacts to a guy coming on to her instantly tells us so much about her. We sense she's already world wise from the way she narrows her eyes and raises her eyebrows at him. Her wry smiles tell us that she knows exactly what he's doing — she's smart enough to always be two steps ahead — but she's enjoying it anyway.
While Mikuan is easy to love, Ishpatao Fontaine isn't afraid to let her be frustrating, as she gets caught up in the angst of being a teenager. With her boyfriend, Francis (Étienne Galloy), she's giddy and enthusiastic: Ishpatao's laughs and smiles are infectious. Mikuan grows more and more short tempered with her best friend, Shaniss (Yamie Grégoire), and her family, who represent the home that she's itching to get away from. When they question the logistics of Mikuan's plan to move to Quebec City for college, Mikuan's face falls from a broad smile and she pushes sharply away from the table, turning her body away from her family, unwilling to have a discussion. When Francis breaks up with her, Ishpatao Fontaine instantly takes several steps back, as Mikuan reacts sharply and angrily to rejection. Ishpatao expertly navigates the harsh and extreme emotions of coming of age, She achieves the complicated task of making a cohesive character out of a teenager who's incredibly intelligent but who still makes rash and impulsive choices. OS
Kuessipan is available on VOD in Canada. It is still seeking distribution in the US and UK.
Read our interview with Myriam Verreault and writer Naomi Fontaine.
Vanessa Kirby, Pieces of a Woman
An excerpt from our essay on Kirby's performance: "Thirty minutes into Pieces of a Woman, I was ready to declare Vanessa Kirby a future Oscar nominee for the film. She has already picked up the Best Actress Award at Venice for her performance, the same award that launched Emma Stone's road to her Oscar. In the film's early 20-minute single-take birthing scene, Kirby's Martha goes into labour and gives birth. What could be overly dramatic is, in Kirby's hands, surprisingly underplayed but no less real: from burping, to unexpected pangs, to her repeated understatement that "This is really awful." It's the kind of performance that's physically showy enough to garner awards attention and yet subtle enough to actually be good.
What's most remarkable about that birthing scene is how it establishes the way in which Martha responds to stress and pressure, by turning in on herself. Momentarily alone in the bathtub, we understand that Martha is in sudden pain by the way Kirby unexpectedly tenses her hand in the air. Martha only occasionally swears, and usually quietly. She doesn't want to be any trouble. Once Martha loses her child and must cope with the grief, Kirby turns further inward, in the way she taught us to expect in that first birthing scene. Staring off into space to avoid confrontation and arguments is her general modus operandus."… AH
Keep reading our essay on Vanessa Kirby's performance in Pieces of a Woman.
Pieces of a Woman will be available on Netflix worldwide on January 7th.
Vincent Lacoste, Amanda
An excerpt from our essay on Lacoste's performance: "Vincent Lacoste has built a career as a sort of lovable goof, whether as the braces-wearing clueless teenager of The French Kissers, the doctor hopeful in Hippocrates: Diary of a French Doctor, or the surprisingly sane drug-dealer-babysitter-suitor in In Bed with Victoria. He's dialed it up to 11 as Julie Delpy's psychopathic son in Lolo, and dialed up the pathos in My Days of Glory. He's a great comic actor, but what keeps you watching is the warmth and the pathos that he brings beneath his characters' often carefree exteriors.
In Amanda, he gives the most restrained performance of his career, completely à propos for Mikhaël Hers's quietly devastating portrait of grief and family. Lacoste stars as David, a twentysomething who survives on odd-jobs, and is extremely close to his older sister and her young daughter, Amanda. He's aimless and lacks responsibilities, but he's not emotionally immature. Like the film, Lacoste has an incredibly light touch that you could easily mistake this incredible performance for someone just 'being'." AH
Our full essay on Lacoste's performance will be published soon.
Amanda is available on VOD in the UK. It is still seeking distribution in Canada and the US.
Read our interview with Mikhaël Hers.
Orion Lee, First Cow
From our interview with Lee: "'I am King-Lu,' Orion Lee told me of his character in First Cow. 'I traveled around a lot, and have an itinerant lifestyle. King-Lu is a person who belongs everywhere and belongs nowhere, and that's kind of inherent in me.' Like King-Lu, Lee is also thoughtful, articulate, and speaks with a soft, gentle tone. It's mesmerizing to hear him think aloud.
As the chattier of the two leads in First Cow, King-Lu may initially seem like Cookie's opposite. Indeed, director Kelly Reichardt told Lee that she wanted to bring that aspect of his character out. But Lee 'was always looking for similarities between Cookie and King-Lu. I don't believe opposites attract; I believe similarities attract.' You often see those similarities emerge by how quickly they each acquiesce to the other's ideas. Cookie never needs convincing whenever King-Lu proposes a dangerous plan, and King-Lu quickly takes on Cookie's dream of owning a bakery and hotel as his own ambition.
After training in acting at the London Academy of Music and Dramatic Art (LAMDA), Lee began his career working for a number of prestigious theatre companies, including the National Theatre of Scotland, the Royal Shakespeare Company, the Royal Court, and the Abbey Theatre (National Theatre of Ireland). He has since expanded his work to TV and film, recently with a key role in the wonderful miniseries Chimerica (Lucy Kirkwood, 2019), but First Cow is his first major leading role on film." AH
First Cow is available on VOD in Canada and the US. It is still seeking distribution in the UK.
Atsuko Maeda, To the Ends of the Earth
Atsuko Maeda's performance in To the Ends of the Earth is comparable to Kristen Stewart's in Personal Shopper: both play women wandering a foreign country in search of their own identity, and both shelter from the world by scrolling on their phones. Both actresses also have an established star persona — Maeda a J-Pop star, Stewart a Hollywood franchise graduate — so it's striking to see them in roles that strip that baggage away to make them vulnerable.
As Yoko, a small-time Japanese travel show host shooting a programme in Uzbekistan, Maeda plays with the dichotomy of her character's on-screen persona and her reality behind the camera. On screen, her voice is high pitched and perky, and she's always smiling, no matter what undignified tourist trap she's being forced to document by her unempathetic director. As soon as the camera stops rolling, she deflates. In the evenings, after shooting, she wanders Uzbekistan as a lost tourist. Maeda looks so small in the frame, not just because director Kiyoshi Kurosawa shoots her in wides, but because Maeda walks and stands without confidence, her shoulders slumped, her steps small and unsure, as if Yoko believes herself to be small. She looks around at the world fearfully, and instinctively shrinks away from any local who tries to speak to her in a language she doesn't understand.
The film's ending is a big, bombastic swing on Kurosawa's part that doesn't entirely work, but Maeda sells the surreal moment because her physicality conveys just how far Yoko has come. Before, she kept her head down, and her eyes flitted furtively about the unknown land of Uzbekistan like an animal frantically looking out for prey. In the film's final scene, Yoko stands on a mountain looking out at the country's beautiful landscape, her gaze fixed and steady for once, and her head held high. She finally looks ready to embrace the world around her rather than shying away from it. OS
To the Ends of the Earth is available in virtual cinemas in the US and on VOD in the UK. It is still seeking distribution in Canada.
Tallie Medel, Fourteen
So often, performances in American indie dramedies (or, you could say, mumblecore) feel forced and mannered in their attempt to seem natural. Fourteen is such a quiet, low-key film that even the slightest hint of artifice would stand out. Fortunately, lead actress Tallie Medel never puts a foot wrong. Through the eyes of her character, Mara, we witness the breakdown of her decades-long friendship with Jo (the also great Norma Kuhling), as Jo gradually becomes more unstable.
Medel's is the less showy part: Mara is sturdy, reliable, and even; Jo is an anxious wreck with addiction issues and a temper. But Medel is all the more impressive because she makes seemingly mundane moments compelling. Mara reacts to extreme situations with an impressive level headedness, and never has an emotional breakdown until the very end of the film — and even then, just briefly. We're waiting and waiting for her to lose her composure, but Medel holds it back until well after we expect. When that breakdown comes, it feels like the cathartic accumulation of a whole film's worth of small sighs and worried looks. OS
Fourteen is available on VOD in the US. It is still seeking distribution in Canada and the UK.
Mads Mikkelsen, Another Round
Mads Mikkelsen gives one of his best performances in years in Another Round, in which he reunites with director Thomas Vinterberg for the first time since 2012's The Hunt. Mikkelsen plays history teacher Martin, one of four high school teachers who participate in a 'social experiment' (read: midlife crisis): maintain a constant 0.05% blood-alcohol content to see if it makes them any happier, more fulfilled, and better at their jobs. As Martin, Mikkelsen is sensitive, vulnerable, and sometimes even pathetic, but he also gets to have his fun with slapstick (walking into walls) and, surprisingly, an uproariously fun scene of 'jazz ballet'. I've never seen him this graceful. OS
Another Round is available on VOD in Canada and the US. It will be released in the UK on February 5th 2021.
Listen to our podcast episode on Another Round and Oslo, August 31st.
Carmen Moore, Rustic Oracle
In Rustic Oracle, Carmen Moore plays a mother, Susan, dealing with trying to find her missing teenage daughter, Heather (McKenzie Deer Robinson), while still caring for her younger daughter, Ivy (Lake Delisle). It's a film told from Ivy's perspective about Missing and Murdered Indigenous Women and Girls, and Moore has to walk the line between stressed and traumatized and yet still ultimately loving.
At the beginning of the film, even before Heather goes missing, Moore looks haggard and exhausted, sharp with her daughters, barking orders quietly and offering no physical affection. And yet, she comes off as more overworked than anything, constantly in motion, clearly holding in frustrations beyond what she says. She barely looks at her daughters, her body taut with stress. She's sharp but soft-spoken, but she moves objects with a force that belies the anger bubbling up just beneath the surface. At dinner, she quietly barks orders, trying to hold in her frustration, speaking softly until she's provoked into an outburst — and yet reining it in as quickly as it came out. It's a portrait of a woman in over her head, trying desperately to be kind to her children, even when things threaten to overwhelm her. She's barely holding back tears.
Once Heather goes missing, things get more tense. Susan suddenly has to multitask taking care of Ivy with the absolute terror she feels for Heather, and the exhaustion of trying to carry out the missing child investigation all by herself. In the tension in her body, we understand the gravity of the situation that Ivy misses. At times, Susan is sharp with Ivy, even grabbing her arm too roughly, reprimanding her too much. But still, we see her walk it back when she can, showing us a woman who wants to be kinder and gentler. And by the end, we see her offering physical affection to Ivy, as they find emotional closeness through physical closeness. It's a carefully calibrated performance, letting Susan be unlikeable without being hateable, overwhelmed and brusque without ever letting us question how much she loves her daughters. AH
Rustic Oracle is available on Vimeo On Demand worldwide. Watch it here.
Read our interview with Sonia Boileau.
Kate Winslet, Ammonite
Oscar-winning actress Kate Winslet has never been better than she is playing pioneering paleontologist Mary Anning. Perhaps that's because few directors trust their actors to express themselves without dialogue as much as Francis Lee does. Her Anning is a quiet woman who is dedicated to her work and withdrawn from social interaction. In the opening scenes of the film, Winslet silently trudges across a stony beach, scrapes her hands through mud, and attempts to climb a jagged rock face. It is through labour that we learn who Mary is.
Mary opens up to the world incrementally through her relationship with Charlotte Murchison (Saoirse Ronan), although Winslet never overstates her slow blooming. By holding so much back, Winslet ensures that every gesture, touch, and look feels monumental. Her first all-out grin in the film is a revelation because, up until that point, the most we've been treated to is a wry twitch of the lip. When she finally gives the closest thing to an 'Oscar-y speech' you'll find in Ammonite, during its closing scenes, it feels totally earned. We know Winslet doesn't have to say it out loud for us to know what's on Mary's mind, so the fact that Mary is finally able to speak her feelings feels like a character breakthrough rather than a vain actor's showcase. OS
Ammonite is available on VOD in Canada and the US. It will be released in the UK on March 26th 2021.
Read our interview with Francis Lee.
Listen to our podcast episode on God's Own Country and Ammonite.
You could be missing out on opportunities to watch great films at virtual cinemas, VOD, and festivals.
Subscribe to the Seventh Row newsletter to stay in the know.
Subscribers to our newsletter get an email every Friday which details great new streaming options in Canada, the US, and the UK.
Click here to subscribe to the Seventh Row newsletter.
Read more great writing about performances…