In Fish Tank, physical boundaries stand for social boundaries — the constraints imposed by gender and class and the walls we build for self-protection. Read our review of Arnold's American Honey here.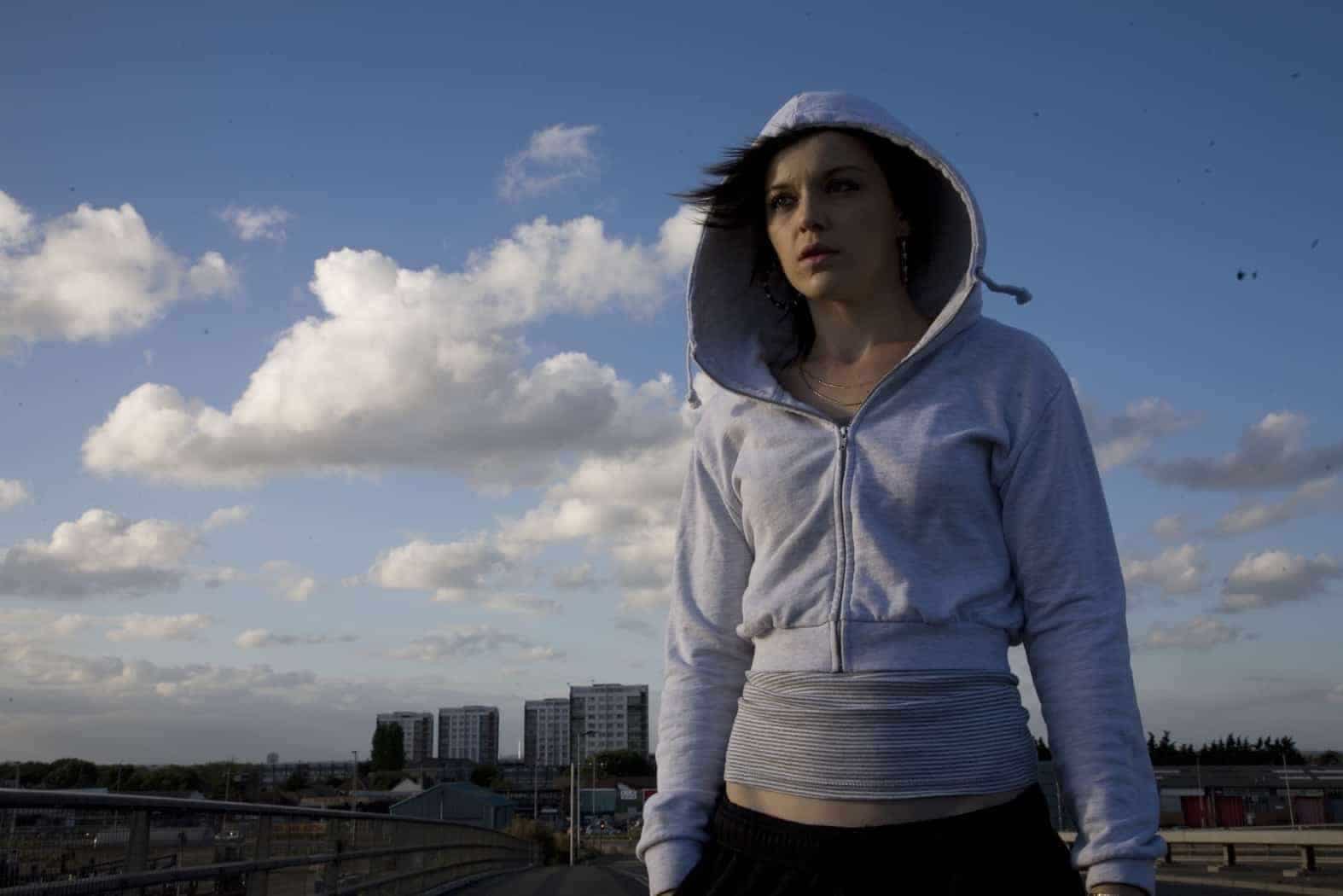 Like a fish in a tank — or any self-loathing teenager — Mia (Katie Jarvis), the 15-year-old protagonist in Andrea Arnold's Fish Tank, feels lost, trapped, and on display. At school, Mia is on the verge of expulsion, and at home, she butts heads with her alcoholic mom and angsty sister. She wants to break free but has nowhere to go: beyond the house, the entrails of an East London housing project are barren and inhospitable. In this context, Connor, Mia's mother's new boyfriend, seems like a breath of fresh air — until he gets too close.
Arnold, who also made Red Road (2006), a social realist picture set in Glasgow, has a gift for capturing the grit of semi-urban environments. In Fish Tank, physical boundaries stand for social boundaries — the constraints imposed by gender and class and the walls we build for self-protection. Arnold uses spatial configurations to suggest the claustrophobia of Mia's world and her undying desire to escape it.
In the movie's opening scene, Mia's future seems as bleak as the landscape around her. She scours the neighborhood — run-down apartment buildings, littered streets, and narrow hallways — looking for a friend, who she finds dancing with a posse of other girls in an empty parking lot. A crew of leering guys watches nearby. Mia does not fit in with either group. She watches and scowls from a distance, eventually provoking a fight. We get the sense that the neighborhood does not afford Mia a niche to be herself. Instead, she walks home alone always moving but going nowhere, through the urban sprawl.
At home, Mia feels equally homeless. The rooms are cramped, swallowed up by the personalities of her mother Joanne (Kierston Wareing) and sister Tyler (Rebecca Griffiths), who both behave like they are about Mia's age. Tyler cusses, smokes, and tans in a bikini, while Joanne alternates between neglecting her daughters and attacking them. She slaps and pushes Mia, who shoves back and escapes to her bedroom. The economy of space in the household is zero-sum: each woman fights for her own turf, and there is often not enough to go around.
Dancing, then, is Mia's only means of carving out space and autonomy. She breaks into an abandoned apartment and adopts it as a dance studio. There, she cranks tunes and practices her 6-step, using her body to own the room. The film circles back to this scene repeatedly, and the room's large window is often illuminated. Mia looks down social and physical landscape from a position of power. She sees the same boys from the neighborhood, but this time they look small and pitiful.
When Connor (Michael Fassbender) shows up at the apartment, he unsettles the household's social and physical configurations. Some of this dis-ordering is exciting. He drives the family to a pond in the countryside, where Taylor spots a dragonfly for the first time, and Mia is spellbound by the lush, green surroundings. She follows Connor into the water to catch a fish, even though she doesn't know how to swim. Connor makes new landscapes and experiences seem possible. As a result, he is attractive.
We learn about Mia's desires through point-of-view shooting and the way she moves through the apartment. She often lingers in the hallway, watching Connor climb the stairs or grind with Joanne at a house party in the living room. She even sneaks into the corridor and cracks open the door to watch them having sex. Mia looks on from the threshold of adulthood, ambivalent about where she stands. Ultimately, this placelessness exposes Mia to Connor's predation. He comes on to her, then disappears.
Tragically, Mia's efforts to track him down only underline the distance between them, given their different socioeconomic positions. She walks for what seems like hours along the highway, stopping twice to ask for directions. Eventually, she arrives at a gated suburban community where all the houses have flowers out front and birds chirp in the background. Conner has returned to his stable, middle-class life, the one she doesn't belong to. When he drives her to the train station ("You're fifteen, Mia," he says, as if this just occurred to him), we are reminded of his mobility. He has the means to escape his past; she dwells on and in it.
Arnold's attention to setting allows her to figure the drama of adolescence and consequences of socioeconomic class without being cloying or histrionic. By the end of the movie, Mia is in the passenger seat of another car, headed in a new direction. We don't know where she is going or what will happen, but with this ambiguity comes a sense, tentatively, of freedom.