After breaking out with her comedic role in Blockers, Geraldine Viswanathan showed her stunning dramatic range in Hala. We spoke to her about the film and dissected this promising young actress' knack for playing intelligent young women.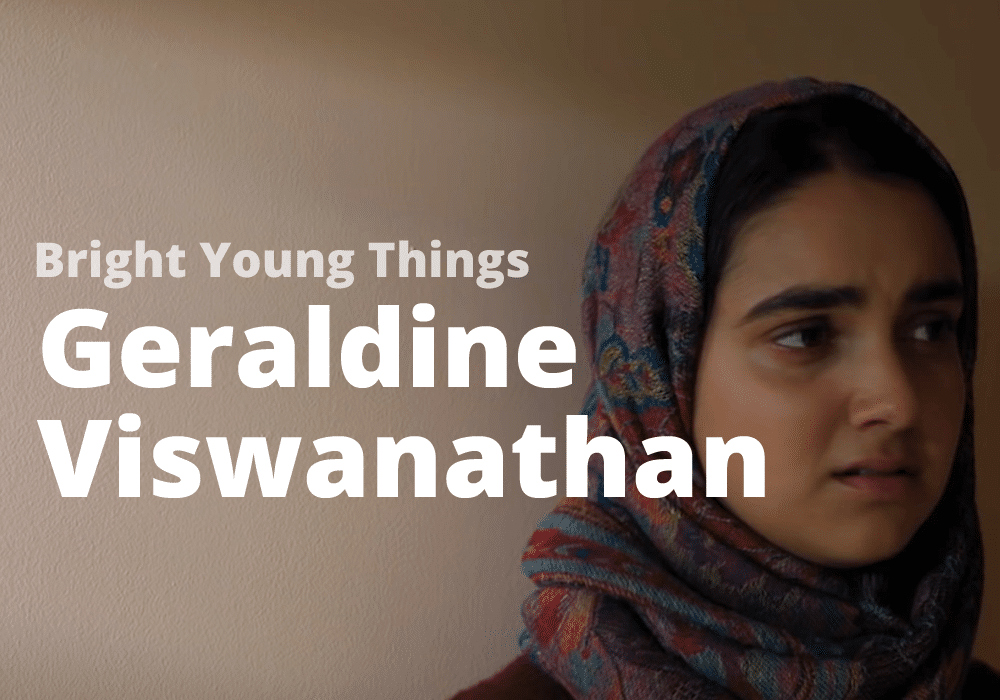 "What are you daydreaming about?", a teenage schoolgirl asks her best friend, Neha, who is staring wide-eyed and worried into the distance. Neha, Geraldine Viswanathan's character in the 2015 short film Big Bad World (dir. Katherine Kelleher), is not so much daydreaming as she is constantly thinking — way too hard.

Viswanathan's characters are almost always highly intelligent teenage girls, but not in a precocious, show-off kind of way. Her characters in comedies like Blockers (2018, dir. Kay Cannon) and The Package (2018, dir. Jake Szymanski) demonstrate their intelligence through casual snark, whereas her characters in dramas, in particular Minhal Baig's Hala (2019), are introverts who are constantly assessing their surroundings, often to the point of compulsively worrying. In both cases, even when she's silent, you can always see Viswanathan thinking.

---
Breakout comedic roles in Blockers and The Package
Viswanathan's first love was comedy, dating back to when she attended Hunter School for the Performing Arts in her home city of Newcastle, Australia. One of her first successes was as part of a female-led sketch and stand-up comedy troupe, Freudian Nip. When I asked her which actors she'd most like to work with, Emma Stone and Olivia Colman came to her mind first — both famous for their comedic prowess.

Viswanathan first came into the limelight in Kay Cannon's Blockers, a female-fronted American sex comedy in which Viswanathan plays the most vulgar and confident of the three teenage girl leads. Unlike her schlubby, male forebears, like Seth Rogen and Will Ferrell, Viswanathan draws humour from her characters' confidence and wit rather than their cluelessness and insecurities. We're laughing with her, not at her. Her Blockers character, Kayla, is incredibly self-possessed and takes all the realisations and revelations of growing up in her stride. Viswanathan launches full-force into explicit monologues about sex; her bawdy and unfaltering, fast-paced delivery conveys Kayla's lack of shame. Her gestures and her pauses for effect are confident and seem effortlessly calibrated to make her audience (e.g. her friends around the table in the school canteen) laugh the most.

By contrast, in the Netflix comedy The Package, Viswanathan plays Becky, a kind of straight-man teenage girl whose comedic force derives from clever digs and sarcastic comebacks. In her first scene, when Becky crashes her brother's all-boys camping trip, to their dismay and surprise, Viswanathan demonstrates Becky's superior intelligence and capability. She's incredibly confident and direct: her tone is blunt, sarcastic, and assured as she looks the boys right in the eye, unwilling to back down from her right to be there; by contrast, the boys 'um' and 'ah' their way through excuses. Becky isn't merely exasperated by these clueless boys who are trying to get in the way of her having a fun time; rather, she flashes a cheeky smile as she pokes fun at them, clearly enjoying running circles around them.

---
Big Bad World
In dramas like Big Bad World and Hala, Viswanathan's characters are just as intelligent, but they are much more introverted. Big Bad World is actually one of her very first credits, an early example of the great work she would continue to do in dramas. The short is about two friends who are social opposites: Viswanathan's smart but naive and withdrawn Neha, and the outgoing, popular Ellie (Freyja Benjamin). At Ellie's suggestion, they skip school to drink and smoke in the park. Ellie holds herself with confidence and speaks with authority, and she's savvy to adult matters, like how to flirt with men or smoke a joint. Neha is the opposite: rarely in the film does Viswanathan truly look carefree, because she's always thinking and always worrying. Her eyes are constantly darting around, looking for an escape route should she need one.

Neha is a young woman unsure of herself and uncomfortable in her body, so Viswanathan's posture is always closed off and awkward. Either her arms are folded or she's wringing her hands, like a form of subconscious self-protection. Neha is constantly asking Ellie questions about sex and bodies, her voice eager and excitable, but also surprised when she reacts to Ellie's answers with an incredulous, "Really?!" Neha is not quite ready to share her body — the idea sounds exciting but absurd to her — because she's not even comfortable inhabiting it yet. Ellie's easy swagger stands in stark contrast to Neha's awkward, gangly walk. Neha's huge backpack weighs her down and forces her to walk with a slump. But she also seems grateful for the added weight, clutching her backpack straps as she walks like she needs it to anchor herself to the ground.

---
Hala
In Hala, Viswanathan once again inhabits adolescent uncertainty, this time as a teen navigating two conflicting cultural identities. Her parents are Pakistani immigrants who hold conservative ideas about how their daughter should behave; because Hala has grown up in America, attending a liberal American high school, her views often clash with her parents'. "We have so many different personas," Viswanathan told me. "We're one person at home, and we're one person at school. I think those different personas are especially disconnected at that age, as you come into your own."

Director Minhal Baig told us that it was Viswanathan's ability to "visually communicate a highly internal conflict" that made her right for the part. Viswanathan communicates so much inner turmoil and questioning through silence in Hala, particularly in scenes where only-child Hala listens to her parents discuss, debate, and argue in their family home; she is always keenly listening but only speaks when spoken to.

Her intricate performance here is all the more impressive given that Viswanathan didn't understand the language, Urdu, that the actors playing her parents (Purbu Joshi and Azad Khan) were speaking. "It was a process of them translating their dialogue to make it seem more natural and authentic, and also, for me to understand what they were saying. We did rehearsals in both English and Urdu, so we all were on the same page. My homework was connecting. It was an exercise in listening, but in a different way than I would usually because I'm not listening to what they're saying exactly. I'm interpreting from the words that I do know, and then also interpreting their body language and emotionality."

Hala is smart enough to be highly aware of the people around her; Viswanthan is constantly listening intently, taking in what they're saying but too cautious and unsure of herself to take action. Viswanathan is alert, her eyes moving from person to person in a conversation as if trying to crack a code. Her eyes are wide and expectant, like she's waiting for someone to say something that will make sense of her personal crises; she's yet to realise she can only find answers about her own identity within herself. At the end of the film, when she does, her gaze is steady rather than searching.

While some of Viswanathan's best work in the film is done wordlessly, she also explores how important language is to Hala's self-expression. Hala is an aspiring writer and a budding poet; the poetry of hers that we hear feels almost like hearing out loud all those thoughts we've been reading on Viswanathan's face in her quiet moments. In the poem she reads to her English class, she speaks about becoming her true self when unburdened by the expectations of others: "It was in the quiet, in the dark, in the moments alone, that she could see herself most clearly." She's not yet comfortable revealing her true feelings in front of her peers (or her parents, for that matter); Viswanathan keeps her head tilted down toward the page throughout this speech. Only a few times do her eyes flit up to the audience of school friends watching her, before looking away again immediately. Her voice is subdued, low, and muted of much emotion. Being vulnerable feels too risky, too dangerous.

The film is interspersed with scenes of Hala alone, where Viswanathan explores Hala's relationship to her body. In public, Hala covers up with long-sleeves, baggy clothes, and her hijab, so it's only really when she's alone that Hala is able to explore her sexuality and body. But our first glimpse of Hala is in private: the film opens on her masturbating in a bathtub, a far cry from the buttoned-up version of herself she shows to the world. When Hala hears her parents coming, she stops masturbating, and Viswanathan lowers her eyes in shame — then she looks around the room anxiously, as if she's afraid there's someone watching even though she knows there isn't. We see how deeply ingrained Hala's shame and confusion is as it manifests even when there's nobody around to judge her.

When she finally shares her body with someone else, losing her virginity to classmate Jesse (Jack Kilmer), it's a huge leap for her. We witness the scene almost entirely on a close-up of Viswanathan's face: her discomfort registers when she frowns up at the ceiling, then it dissolves as she loses herself in the throes of passion, then that discomfort materialises again when she remembers where she is and what she's doing. She stares at the distracted Jesse with uncertainty as the great unknown of sex and intimacy is suddenly revealed to her as almost mundane. Losing her virginity, and realising sex isn't as grandiose and special as she'd hoped, is confusing for Hala, setting her off on a self-destructive path. But sharing her body with someone else has a huge effect on her, especially as we had previously only seen her express her sexuality fearfully and in secret. Sex catalyses an increasing comfort in her own body that Viswanathan tracks through a strengthening physicality, right up until the end of the film when Hala stands tall, assured, and open, making eye contact.

Hala marks the first time that Viswanathan has been given the space to carry out a full, satisfying narrative arc for a character. Hala makes mistakes, has sex, and witnesses the breakdown of her parents' marriage, after which she learns to see her mother as a person, and they begin to treat each other like equals. By the end of the film, this highly intelligent girl has learned how to fulfill her own potential and not be hindered by worry and anxiety. The final scenes in the film between Hala and her mother stand in stark contrast to the first: Hala is now an active participant in conversations with her mother rather than a silent observer. Viswanathan speaks with authority, her gaze toward Hala's mother now assured rather than searching. At one point, Viswanathan reaches out her hand to take her mother's in an act of solidarity. Viswanathan wants us to know that Hala is now self-confident enough to be an independent adult in the world, rather than a teenager dependent on her parents and caught up in what others think of her.