Clio Barnard's Ali & Ava stars Adeel Akhtar and Claire Rushbrook as two kindhearted people with complicated pasts falling in love.
Click here to find all of our TIFF 2021 coverage and sign up to our TIFF newsletter.
We're running a daily TIFF 2021 newsletter to give you all our reactions to the best new films as they premiere. Click here to sign up for free.
Save for London, it's rare to see British cities portrayed on screen in all their specificity. It's always a delight when a film like Weekend (Andrew Haigh, 2011) comes along and captures Nottingham with such a vivid sense of place. Or the work of Ken Loach, who has recently been telling stories about working class people in Newcastle (I, Daniel Blake, 2016 and Sorry We Missed You, 2019). Watching Clio Barnard's Ali & Ava, I was delighted to realise that all four of her features (The Arbor, 2010; The Selfish Giant, 2013; and Dark River, 2017) are set in the county of Yorkshire, where she was born. All but Dark River take place in the city of Bradford. Ali & Ava may be a love story between the eponymous characters, but it's also a love letter to Bradford.
"I love this city," Ali (Adeel Akhtar) tells Ava (Claire Rushbrook) partway through the film. As British cities go, Bradford is oft-maligned or forgotten, especially by those who live in London and in the south of the country. In her films, especially Ali & Ava, Barnard takes the time and care to show us the heart of the city, exhibiting why the people who live there, like Ali, might love it. She portrays Bradford as a small and tight-knit community: we see Ali make a cup of tea in his kitchen, then carry the mug outside to the next house over, where his mum lives. Later, when Ali is stuck in a traffic jam, he spots a group of funeral goers and rolls his window down to ask who died; there's a good chance it's someone he knows, even just in passing. Everyone knows each other here, and in turn, everyone is always helping each other, whether it's Ali constantly offering people lifts in his car, or Ava regularly babysitting her neighbour's daughter.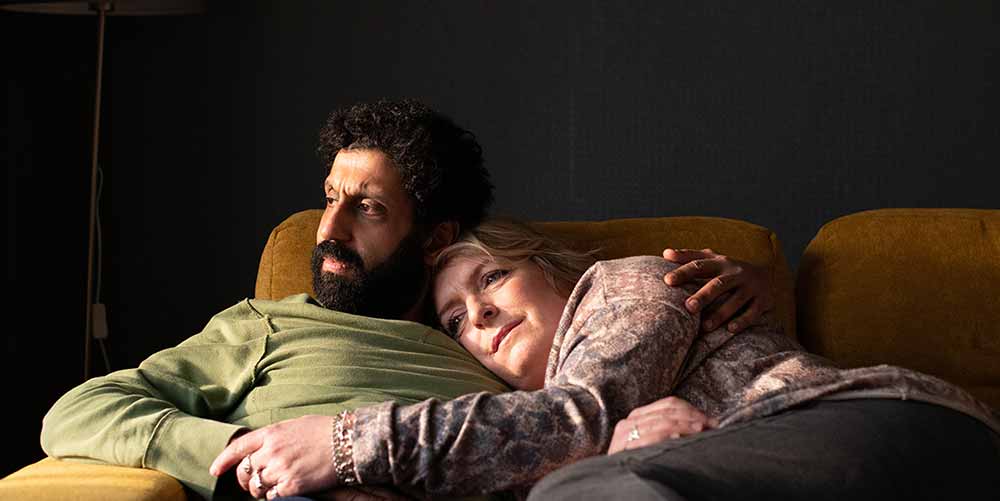 In this warm, bustling, largely working class town, Ali and Ava, two middle-aged people with complicated histories, start to fall in love. Ali is a music-obsessed landlord who occasionally gives Sofia (Ariana Bodorova), his tenants' young daughter, a lift to and from school; Ava is Sofia's classroom assistant. They first properly meet when Ali offers to give Ava a lift home in the rain (she usually takes the bus), and his lively energy and constant joke-cracking warms the kind, gentle Ava to him very quickly.
It's rare to see a story about two middle-aged characters falling in love, and Ali & Ava is smart about showing all the complications that can come with embarking on a relationship later in life. Barnard slowly reveals all the baggage that both Ali and Ava are bringing into their relationship, although from the start, both actors give the impression that this isn't easy.
Akhtar plays Ali as an extrovert, bringing all the comedic wit he's famous for to the role, but his eyes are also tired and heavy, his expression often passive and his posture slumped (not to mention that he's regularly seen wearing a red cap that shades his face). Meanwhile, despite how much Ava loves spending time with Ali — she smiles brightly at him and laughs at all his jokes — Ava is also incredibly nervous to pursue a romantic relationship. Rushbrook is constantly hesitating before Ava makes, or attempts to make, any kind of move, as if she doesn't quite trust that she's allowed to do this.
This is nothing like first love; both Ali and Ava have been burned by past relationships, and in order to be together, they need to set that hurt aside. Ali is still living with his wife, Runa (Ellora Torchia), from whom he separated after they experienced a shared heartbreak. He's still too afraid to tell his family that they're not together anymore. Ava is a mother of four grown-up children and a grandmother of five who has spent her life caring for others but rarely being cared for herself. Her previous partner was abusive, and he died a year ago (a while after they had separated), which has left Ava's son Callum (Shaun Thomas), himself a young father, in pieces.
Ali and Ava need to take baby steps toward each other, which Barnard portrays beautifully through music. Ali and Ava couldn't have more different music tastes: he obsesses over dance and rock, while she loves country and folk. We spend a lot of time with each character listening to music in their headphones when they have a moment alone with their thoughts. When Ali and Ava start sharing their favourite songs with each other, they're letting each other into that private headspace. In one of the film's best scenes, they dance with abandon on Ava's sofa, except they're each wearing different headphones and listening to different songs — first, their own favourite music, then each other's. They find a way to bridge the gap between one another's tastes while still enjoying time together. Later, Ava smiles while listening to a song Ali recommended on her commute to work; Ali, separately, listens to one of Ava's songs in his basement. Through music, they try to understand each other.
The obstacles to Ali and Ava's romance are mostly internal, although the film falters slightly when dealing with the external barriers they come up against. Besides finding the courage to fall in love again, Ali must tell his family that his marriage has ended. Ava has to stand up to her controlling son, Callum (Shaun Thomas), who is aggressive toward Ali out of fear that he's trying to replace his dad. As great as Ali & Ava is at portraying the emotional journey its lovers make toward each other, the film wraps up their external conflicts with the people in their lives a little too easily. We don't get to see them do that last bit of emotional work to be together, and it makes the ending feel a little too neat.
Still, how rare is it to see a grown-up romance about two people with full lives and interests, who are damaged but emotionally mature and kind? And how often do we get to see a love story shaped by such a specific place and community, that likely wouldn't have been the same if it were set anywhere else? Ali & Ava is a sweet, low-key film filled with so many lived-in details of Bradford life, and focused on all the small moments of affection that lead to blossoming love. With two wonderful performances from Akhtar and Rushbrook, who have amazing chemistry, Ali & Ava is one of the most affecting and real screen romances of recent years.
Stay in the know about TIFF 2021 films like Ali & Ava.
Subscribe to Seventh Row's TIFF newsletter.
We're running a daily newsletter during the festival: every morning, we'll send subscribers a dispatch about all the new films we're watching, good and bad, to let you know what's worth keeping an eye on.
Click here to subscribe to the TIFF 2021 newsletter.
Take home our ebook on Francis Lee's God's Own Country
Return to the Yorkshire moors and discover how Lee, Secareanu, and O'Connor brought Johnny's and Gheorghe's romance to life.