Below Her Mouth attempts provocation and frank depictions of lesbian sex, but it forgets the emotion in its love story.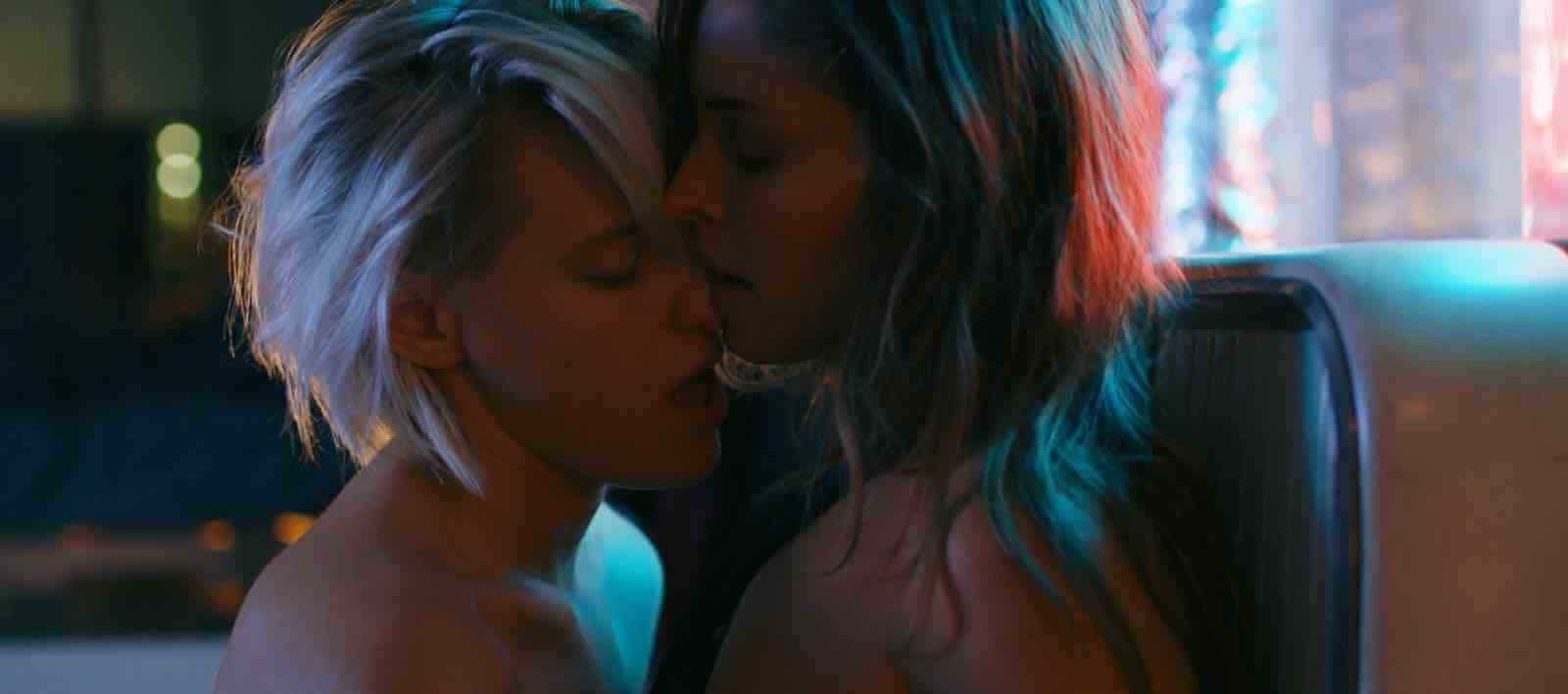 Cringeworthy dialogue and an over-reliance on closeups make April Mullen's Below Her Mouth an often painful watch. After a meet-cute between roofer Dallas (Erika Linder) and the fashion magazine editor who lives next door to the construction sight, Jasmine (Natalie Krill), the pair find themselves inexplicably drawn to each other. Though Dallas runs from commitment at every opportunity, delivering hilariously dumb lines like, "You won't catch up. No one will ever catch me," the curvaceous Jasmine seems to be the one woman who could change Dallas' mind.
Unfortunately, Jasmine is engaged to a man (Sebastian Piggott). Jasmine seems indifferent to him, but she's too afraid to leave for fear of being judged by her family. When Dallas finally persuades Jasmine to have a drink with her, they begin a weekend-long date in which intimacies are shared, and things change for them both forever.
I suspect Mullen and writer Stephanie Fabrizi are aiming at a lesbian version of Andrew Haigh's superlative Weekend, with frank depictions of sex and how it can open people up to each other and to new experiences. Unfortunately, Mullen is so focussed on demonstrating the mechanics of the sex between Dallas and Jasmine that she often forgets the emotion. There's full frontal nudity, direct shots of how and where the strap-on dildo gets used, and how they're getting each other off. But the camera is more focussed on bodies and mechanics than on faces and connection. The characterization is often so poor that it borders on soft core pornography.
The few moments when Dallas and Jasmine actually talk to one another are told in montages where images from one part of the day fade into images from later in the day, and conversations are heard only in fragments. Mullen effectively gives the impression of a connection without actually doing the work to make it real and believable. These aren't characters with anything much to say, and we get little indication of their compatibility outside of sex.
One exception is when Jasmine explains why she never came out and why she's with a man. Her story of shame and guilt feels real, and the way they connect over it is touching. Had the film gone deeper into this story — as Stephen Dunn's Closet Monster did for its gay protagonist — there might have been something more substantial. Instead, when Jasmine is forced to choose between her fiancé whom she can barely look at and Dallas, everyone involved acts as if she's forced to take the heteronormative route.
There are enough obvious identifiers to feasibly make the film a Toronto-specific story, from the streetcars to the weekend trip to the island, even if the background is often blurred. This makes it hard to believe that Jasmine and Dallas would feel so hopeless and powerless becuase they're used to being in a liberal-minded place where their romance is unremarkable. Worse, the film infantalizes Jasmine, a grown-ass woman, by never once having a character remind her that she's an adult, capable of making her decisions. All Dallas does is challenge Jasmine to explore her repressed sexuality, but when it comes to defending their relationship, she's completely incapable of questioning Jasmine's life choices. It's bonkers, and completely unbelievable.
---
Below Her Mouth is a TIFF 2016 Special Presentation and will be distributed in Canada by Elevation Pictures. It is still seeking a U.S. distributor. The film screens Sat. Sept. 9 at 9 p.m. (Isabel Bader Theatre) and Thurs. Sept. 15 at 7:45 p.m. (Scotiabank).